After tiring of the ride on the cart game, Riley was placed inside the grocery cart for the last 3 1/2 minutes of our shopping trip. First I look up to see him sucking on the bottle of dawn. Thankfully, the cap was still closed. Crisis averted.
Then I had to take away the cereal bar he got after ripping open the package. It was chewed and gross.
I then here BITE. This is what he bit: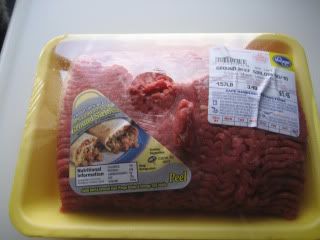 Y'all, seriously.
BARF. That's raw meat, people. Raw freaking meat. He didn't swallow any. He just took a bite and spit it back out. I can imagine why(the spitting out part, not the wanting to take a bite), though I'd rather not think too long on it.
I called the pediatrician and as long as he doesn't start puking, he should be alright. But I did hear the words, "stool sample" if the vomiting does show up. JOY.
He has mouthed plenty of animal hair and the occasional dog poo from outside. Plenty of bugs and rocks and whatnot.
What disgusting thing has your rug rat put in his/her mouth?