These can be made low fat if you do less cheese and leave out the sour cream at the end. But we don't play that way at my house.
You'll need:
1/2C chopped roasted sweet red peppers(I use store bought in a jar)
1 can black beans, drained and rinsed
2C shredded cheese(I used monterey jack)
1-2 tbsp minced fresh cilantro
2-3tsp chili powder
1-2tsp cumin
Combine that with a pound(or less, we like a lot) of cooked crawfish tails. I got mine frozen and already a bit spiced from the Kroger seafood dept. Just make sure they're drained, you don't want them too juicy when you put this together.
Spoon some of the filling onto a tortilla. Fold up all the sides and put flap sides down on a baking sheet. Bake at 350 degrees for 20 minutes, or until the filling is heated through and the burritos turn a bit golden.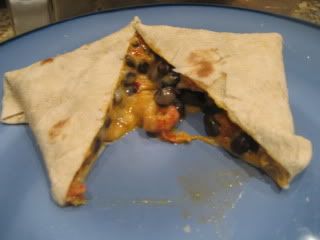 I ate it with a bit of salsa and sour cream.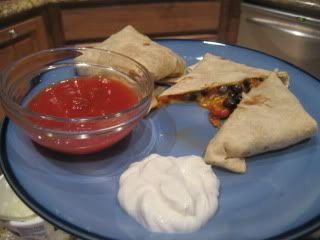 Well, maybe more than a bit. You should have seen how much sour cream The Guy used. It was shameful.