Riley will be starting a Mother's Morning Out program in Sept. It's two days a week for about 3 hours. Since he's just started talking there hasn't been a lot of emphasis on his letters and numbers.
I decided to get super crafty and put the alphabet up in his room. Check out how creative I am: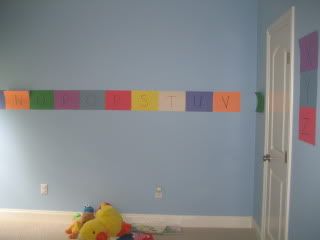 See, crafty. I bought construction paper and managed to write a single letter on each piece. In my defense, I do plan to, at some point, cut out pictures to represent each letter. But I want Riley to do that with me.
This certainly brightened up his room a bit. He likes to go around hitting each letter as I say it. Usually while saying, "O, O, O." He'll get it.