I'm trying to get rid of all my maternity and nursing clothes. I figure, if I get to get pregnant again, I'll want new stuff. So I've put it all up on Craig's list. I've sold one thing. Darn it!
Anyway, I figured I'd go ahead and get rid of most of the baby clothes, too. Same idea. If we have another baby, we'll want new stuff.
I was doing just fine. I had been through cute onesies and plenty of sleepers and even a gown or two.
Then I got to this: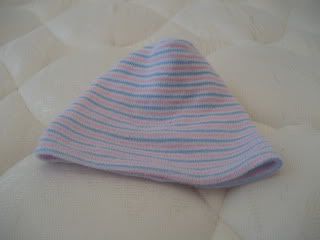 It's the hat they put on the baby right after it's born. Not that it could possibly keep any body heat in, but they do it anyway.
I totally lost my you-know-what. It was an ugly cry. I even sniffed the thing, like it would still have itty bitty baby smell on it.
That's all it took to have me sobbing like a crazy person. I finished going through everything(after a call to Sudie-who got it-and to The Guy--who thought it was cute, but crazy) and put it neatly into the box marked- 0-6 months.
It doesn't help that my very best friend, Sudie, is pregnant with her third. If we kept up with our current trend, I'd get pregnant about the same time she'd give birth to the new baby. Damn IUD. This is a picture of our 4 kids, 3 and under.
It was total chaos. It'll be even crazier next May when we head over there. 5 kids, 4 and under. Too bad I won't have one on board to complete the picture.