You will need:
1(8oz)pkg cream cheese, softened
1/2C butter
1 1/4C sugar
2 eggs
1C mashed ripe bananas(or a bit more)
1tsp vanilla
2 1/4C all purpose flour
1 1/2tsp baking powder
1/2 tsp baking soda
topping: (I did something completely different b/c I didn't have pecans)
1C chopped pecans
2tbsp sugar
1tsp cinnamon
In a large mixing bowl, beat the cream cheese, butter, and sugar until creamy. Add eggs, one at a time, beating after each one. Add bananas and vanilla. I don't measure the vanilla. A bit more won't hurt anything!
Combine the flour, powder, and soda. Gradually add to the other ingredients.
This is where you'd add in half the topping topping mixture. I didn't have any pecans so I ended up combing about 1/2 C of sugar and a ton of cinnamon(I really have no idea how much, I looked for a good color). I added a bit of that to the batter and did a quick swirl.
Pour into a greased 13x9in baking pan. Sprinkle with the remaining topping.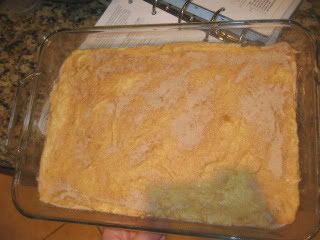 Bake at 350 for 30-40 minutes or until toothpick close to the center comes out clean. Cool on a wire rack.
This is delicious!