Um, wow. This thing is amazing. I got it in a Kroger mailout!
The guy and I are in need of a diet so I thought I'd go all out with a weekend of decadence to celebrate our fatness before the slimdown. This is what I made:
For the crust you'll need:
About a cup of ground chocolate graham crackers(about 3/4 of a 9oz package of cookies)
1tbsp sugar
1/4C butter, melted
For the filling:
10oz dark(bittersweet) chocolate, chopped
4 pkgs.(8oz each) cream cheese, softened
1 1/4 C plus 2 tbsp sugar
1/4C unsweetened cocoa powder
4 eggs
For the topping:
3/4C heavy whipping cream
6oz dark chocolate, chopped
1tbsp sugar
Crust--
Go ahead and preheat your oven to 350F. Butter a 9in diameter springform pan with high sides. (at least 2 1/2in sides)
Chop cookies in a food procesor until finely ground. Blend in sugar. Add melted butter and process until well blended. (Sorry, forgot to take pictures of this step!) (Oh, and this step, too.) Press crumbs onto bottom of the pan only. Bake until set, about 5 minutes. Cool while preparing filling. Go ahead and leave your oven on.
Filling--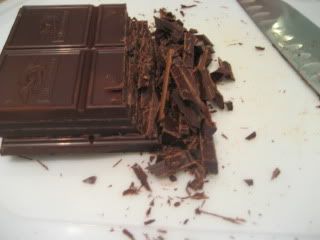 Stir chopped chocolate in a metal bowl over saucepan of simmering water until melted and smooth. I don't have a metal bowl or a double boiler. What kind of baker am I? I just put the chocolate in a regular saucepan and kept stirring over low heat.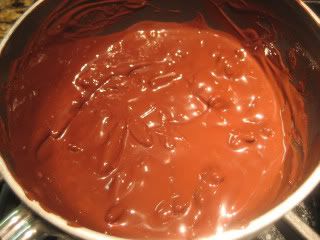 This isn't to the smooth stage yet, obviously.
Cool chocolate until lukewarm but still pourable.
Now blend all that cream cheese with the sugar and cocoa powder in a large food processor until smooth. I already had the cream cheese in my big mixer before I noticed this little tidbit of information. Dangit! Another thing to clean.
Blend in eggs, one at a time. Mix in lukewarm chocolate
Couldn't you just eat that with a spoon? Well, you could if it didn't have 4 raw eggs in it.
Pour filling over crust and smooth the top.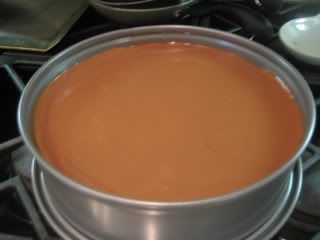 Bake until center is just set and appears just a tiny bit dry, about 1 hour(mine took about an hour and 10 minutes). Cool 5 minutes. Run knife around sides of pan to loosen. Chill overnight. Don't worry if you wait longer than 5 minutes. I did and mine turned out alright.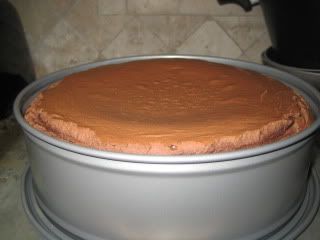 Topping--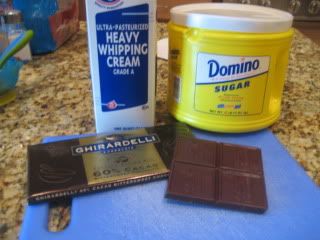 Stir cream, chocolate, and sugar in a medium saucepan over low heat until smooth.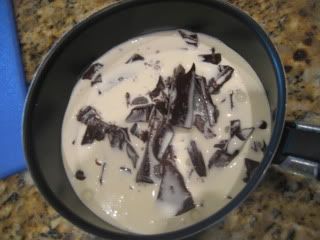 Cool slightly.
Pour over center of cheesecake, spreading to smooth. You're supposed to spread the topping to within 1/2in of edge. My topping went all over as soon as poured it so I just let it go. I had a toddler and a crazed baby in a walker around my ankles. I couldn't be bothered.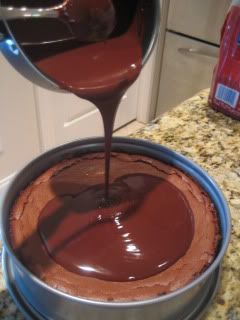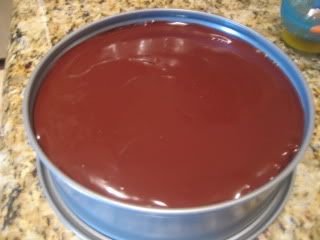 Chill until topping is set, about an hour. Release pan sides and transfer to a platter, or whatever you going to put it on. You can get all fancy at this point and top with chocolate curls. I am not fancy.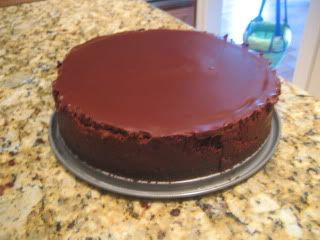 You're supposed to let this stand at room temp. for 2 hours before you slice it, but no. Who can wait?