I tried a new recipe last night. It was supposed to be low fat but, um, some choices I made made it fatty. I love fatty. Except on my belly. And my butt. And my arms. And my...I'll stop now. This is supposed to be appetizing, not vomit inducing.
The ingredients: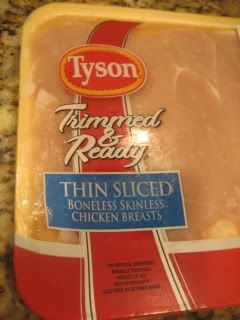 Chicken(or turkey) cutlets
Feta cheese(could be fat free), minced garlic(you could get fancy and do fresh), sun dried tomatoes(you could do the dry ones and reconstitute in boiling water--I used oil packed), basil(fresh would be tasty), and oregano. Oh, and salt and pepper because I put that on almost everything. Have y'all tried the McCormick grinders? They're fabulous!
Mix up about 1/2C feta cheese, 2-3 sun dried tomatoes, 2 minced garlic cloves, 1tsp basil, 1/2 tsp oregano and how every much s&p you'd like. Next time I'll also be throwing in some diced kalamata olives.
Put cutlets on a broiler pan or cookie rack.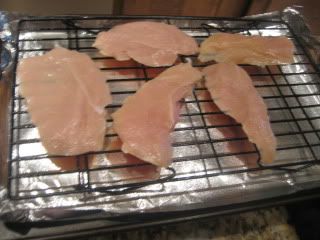 Broil for 4 minutes. Turn over cutlets and top with cheese mixture.
Broil another 5-6 minutes or until the chicken is done and the cheese is starting to brown.
This was very yummy and could easily be made low fat. I served it with some pecan and garlic couscous(from a box) and a toasted sourdough baguette. I usually have something green to go with our meals but didn't have anything in the cabinet or freezer that would go with these flavors. There are some kalamata olives on the plate because I knew they'd be good with this.