Riley wants to eat anything that Brock is eating. This created a love of applesauce we never knew he had. He used to hate apples! He now goes to the fridge, and as soon as I open it, he points to the applesauce. He ate it twice yesterday. So I decided to try to make my own!
5-8 apples, cored, peeled, and chunked(I cut each slice in half)
I used fuji apples because that's the kind I like to eat.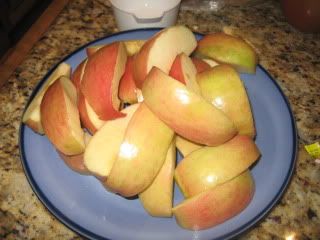 Put in a large pot and add enough water to come about halfway up your apples. Throw in some sugar, white or brown. I used brown. I added cinnamon. I did not measure either of these. Probably 1/3-1/2C of sugar and a tbsp or so of cinnamon. I go by smell because I'm a freak.
Simmer until a fork goes in and out easily. It took mine about 20-25 minutes. I used 6 apples.
Pour the apples and some juice into a food processor or blender.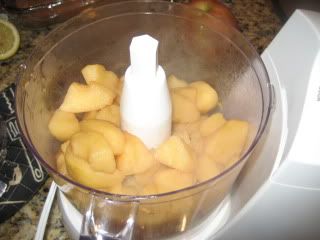 I ended up using all the juice to thin mine out since I'm going to be feeding this to the baby.
It's a hit! Riley loved it and Brock tolerated it. He'd eat cheerios and puffs all day, everyday if I'd let him.