I made up a cake yesterday.
I had a bunch of whipping cream that was going to go bad in a week or two and I wanted to use it up. I first decided on strawberry whipped cream. Then I wanted to try my hand at ganache. I had to find a way to put these together.
I had grand plans of making my own yellow cake and doing a sort of filled cake covered in ganache. Too bad I was pretty much out of all purpose flour. I had to resort to boxed.
Please don't think less of me and my baking abilities.
So, make a cake. I did 3 layers because I was trying to be fancy.
Now for the strawberry fluff. Puree about a pound of strawberries.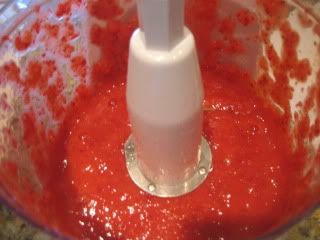 Combine a cup of whipping cream and 2tbsp of sugar in a chilled bowl with a chilled beater. Whip until stiff peaks form.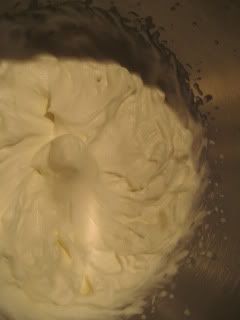 Add pureed strawberries and whip for a moment more.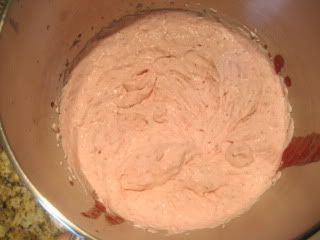 Refrigerate until ready to use.
Ganache is ridiculously easy. Take 8ozs of semisweet or bittersweet chocolate and chop it up into small pieces. I should have made mine smaller.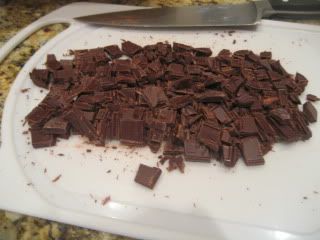 Put these in a bowl. I really wish I still had metal bowls, which is what you should use, but mine have been lost for a long time now.
Now, pour a cup of whipping cream into a small saucepan and bring to a boil, stirring along the way. This does not take very long.
Don't worry about bringing it to a full boil, just bubbling around the edges is enough.
Pour hot cream over the chocolate and start stirring.
Don't whip it, just stir slowly as the chocolate melts and incorporates with the cream. Does that make sense? "Incorporate with the creams." It seems all wrong.
Anyway, keep stirring until it turns into a very pretty chocolate sauce. All one color.
You can let it sit on the counter to cool or toss it in the fridge. But it needs to cool. If it gets too cold and "sets", don't worry. Just put it on the counter and stir it every few minutes until it gets to a spreadable consistency again.
It's time to build this sucker. If you're smart, you'll shave the tops off the cakes so that they're flat. I am not smart. This will not surprise many of you.
Now throw some of the strawberry fluff on there.
Spread. Repeat. Top with last layer.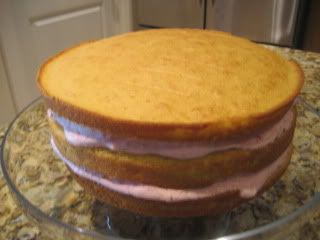 Now top with ganache.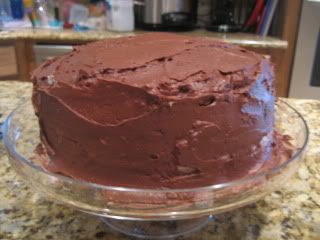 This had to have been the ugliest icing job I've ever done. But I got impatient and my ganache wasn't all that spreadable. And because I didn't shave down the cakes, the strawberry filling went everywhere.
But it tastes good!
Realllllly good.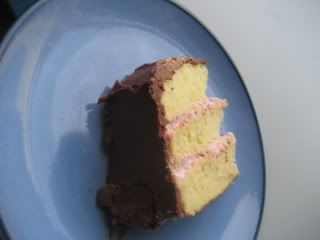 Now, what should I name it?