I took two recipes for chicken parmesan in the cooking light cookbook and kinda combined them to make my own.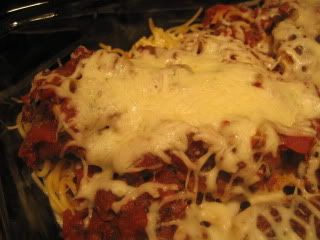 Starting with the sauce:
Pour 1C of boiling water over a handful of dry sundried tomatoes. Let sit for 20 minutes to rehydrate.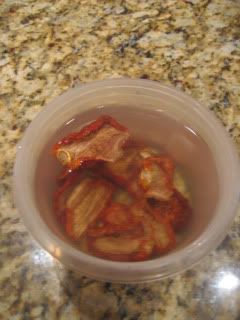 Finely chop the rehydrated tomatoes and one small onion.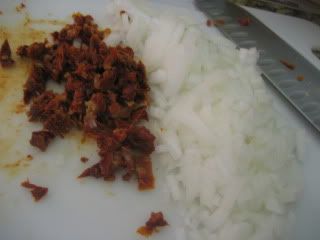 Saute in 1 tsp of olive oil for 5-7 minutes, until onions are soft.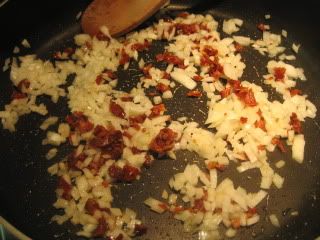 Add in 2 cans of diced tomatoes, juice and all.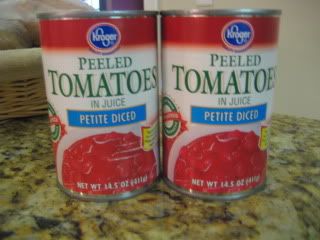 Bring to a boil. Cover, reduce heat, and simmer for 10 minutes.
Meet my impediment. He was alll up in my way. But the cutest little nuisance I've had to deal with in a.....well, that hour.
Add in:
2tsp dried parsely
2 tsp dried basil
1 tbsp balsamic vinegar
1/4tsp black pepper
2 garlic cloves, minced
Stir it all up and take it off the heat until you get everything else ready.
Cook 8oz of spaghetti with a little oil and keep it ready for putting everything together.
Now for the chicken. You'll need 4 chicken breast flattened to an even thickness. They say 1/4inch but who measures?
Your assembly line:
One plate of flour
A plate/bowl with 2 egg whites, beaten
A dish with 1/2C italian bread crumbs, 1/4C grated parmesan, and a few shakes of pepper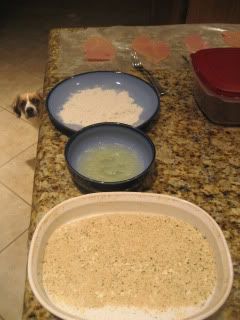 Dip your chicken in the flour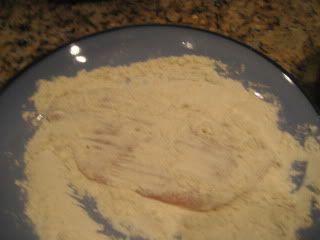 Dip in the egg whites
End in the crumb mixture. Can you find the chicken? This made me think of a sting ray camouflaging itself in sand. I even wonder about me sometimes.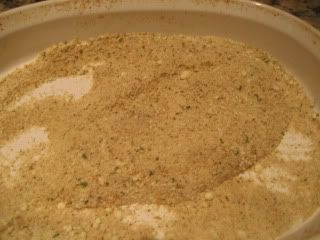 Saute chicken in 1 tbsp of olive oil. It took about 5 minutes a side to get it done and with a nice crispy outside
Now for final construction. I apologize for the horrible lighting, it was night and my kitchen lighting, while beautiful for regular use, does nothing for pictures.
Put the spaghetti in the bottom of 13x9 in baking dish.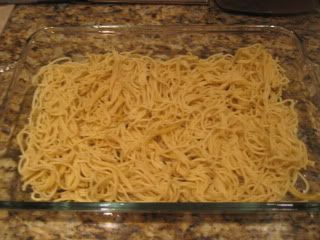 Top with half+ of the tomato sauce.
Put your chicken on top of that.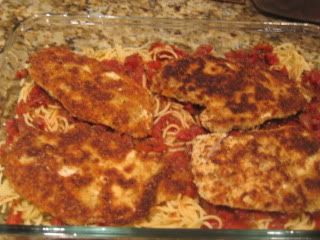 Top each piece with tomato sauce.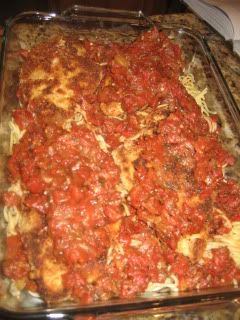 Top all that with a cup(or two) of mozzeralla cheese.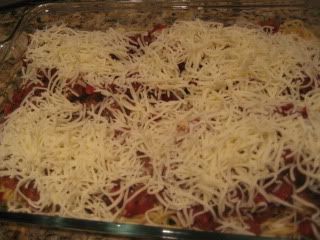 Bake at 350 for 15 minutes or until the cheese melts.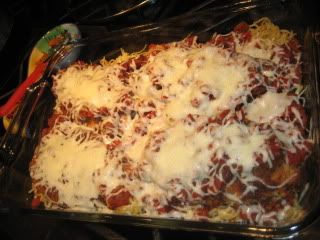 The Guy loved it. I loved the chicken but since I'm not a big fan of tomatoes anyway, I didn't love the sauce.