I used to make a meatloaf with ginger, but after getting pregnant with Riley, just the thought of it made me nauseous. The Guy has been asking for meatloaf for dinner for a while now. I looked at recipe after recipe for meatloaf and finally just decided to wing it. It came out good!
First I sauteed some onion, bell pepper(whatever color you prefer), and garlic in come butter.
I have no pictures of the rest of the mixing process since I had meat hands. Ewwww.
Combine:
1-1 1/2 lbs ground beef
2 eggs
1+C bread crumbs
2-3tbsp worcestershire sauce
2-3tbsp honey
a splash of heavy cream
the cooled onion and pepper
enough ketchup to get it to the right consistency
Line a pan with foil and then parchment paper. The parchment paper manages to keep the grease away from the meatloaf.
Form the mixture into a loaf form on the parchment paper.
Top with a mixture of brown sugar, ketchup, honey, and a squirt of mustard. I didn't measure this, not even a little bit. Spread it over the meatloaf.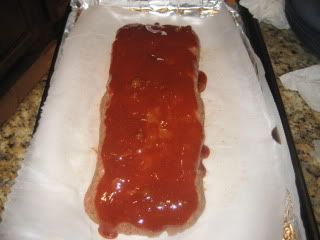 Cook for an hour at 350 degrees. Let stand about 10 minutes before cutting.
I was so hungry by the time I got Riley to bed that I forgot to take a picture of this. Maybe I'll try to get one tonight since we're having this for leftovers!