This will certainly tell you how far behind I am on the blog. And it kind of explains the reason why, too.
On May 23rd a man ran his red light(going at least 50) and hit my door. We had just pulled out of Walmart and I didn't even see him coming, just felt the impact. We don't think Brock was that lucky. He had a horrible time sleeping for about 3 weeks after the accident. Since I felt the impact every time I closed my eyes, I wonder if Brock saw it and felt it every time he closed his eyes. Talk about heart breaking!
Today is August 11th. I finally got the van back yesterday. It took that long for them to fix it all. Here's why--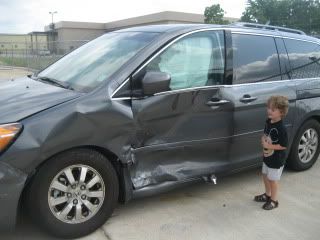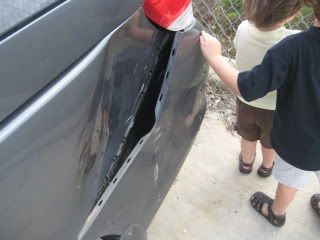 Don't you want to just pick him up and cuddle him?
Something is a bit off with this car....
After the sleep issues, Brock got better. He had a few relapses but seems to be pretty good now. He's very quiet in the van so far, but it's only been a day. Riley talked about the time that guy hit our car and it was really loud and really scary for a while. He then told everyone how are car was broken and why. Then it was talk about how it was almost fixed, just one part to do. He's faired the best of all of us.
I went to the hospital right after the accident. The EMT's and firemen cleared the boys so Josh took them home. I had xrays done of my left shoulder and arm and of my right ankle. They were the worst of the pain. Nothing was broken so I went on home. I went back a week later to a regular doctor because I could barely move my neck and I couldn't do anything without pain. More xrays, more medicines, nothing worked. A week after that I went to another doctor and started physical therapy and massage. Two and a half months later and I'm still not better. MRI should occur at some point next week.
So I'm the only casualty left. I can't believe I didn't take a bunch of pictures in the beginning, but Riley got a picture of one of my bruises the day after the accident.
I just continue to thank God it was my door that was hit and not Brock's. And I thank Him those airbags worked. And that the boys are ok. And I'm gonna be ok, someday.