You'll need:
1 tbsp butter
1/2 C brown sugar
2 tbsp water
1/4 tsp cinnamon
4C oats (quick or old fashioned)
Melt the first 3 ingredients together in sauce pan. Let it simmer for 2 minutes then take it off the heat.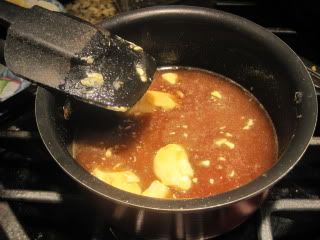 Mix together cinnamon and oats in a very large bowl.
Add the butter mixture to the oats and keep stirring until well coated. Spread the oats onto a lightly greased cookie sheet. Bake at 375 for 15-10 minutes, stirring every 5 minutes. You're looking for just the right crunchiness. Let it cool and then store in airtight container.
We use this mostly for snacks and parfaits. I have yet to manage a picture of "after" but I know I will someday!