As many of you know, I'm a fan of
crock pot rotisserie chicken
. It's so easy and it goes far for weekly meals. I'm always on the lookout for new ways to use it and I found one
here
.
Chicken Pockets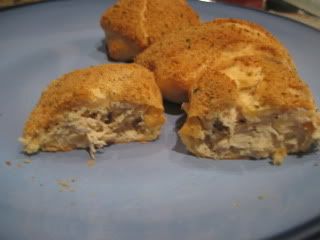 You'll need:
3 oz(or maybe a bit more) cream cheese (I actually used fat free!)
3tbsp melted butter
2 cups diced cooked chicken
1/8 tsp salt and pepper
1-2tsp italian seasoning(I added a bit of tarragon as well)
1 pkg crescent rolls (I used reduced fat--look at me go!)
1/2 c. Italian breadcrumbs
Preheat oven to 350 degrees.
Mix together the cream cheese and 2tbsp melted butter until well blended. Add in chicken, salt, pepper, and italian seasoning until incorporated.
Make an assembly line of 1tbsp melted butter, the breadcrumbs, and the chicken mixture.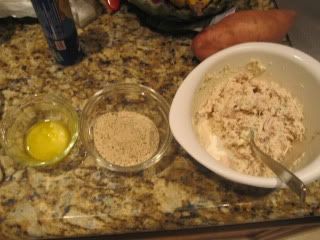 Separate the crescent rolls into triangles. Place a spoonful of the meat mixture in the center of each triangle.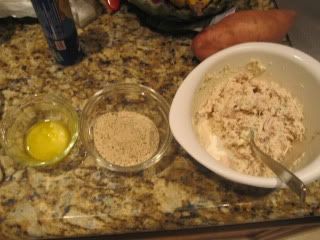 Mrs. Matzat
says to pull corners together and twist slightly and seal edges. I never managed this. Hers are so pretty. Mine are not. I just managed to fold everything up and seal the edges.
Brush the tops with butter.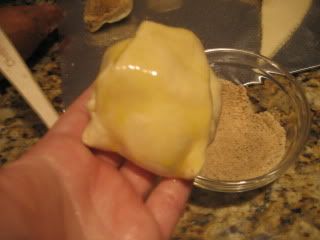 Roll in the breadcrumbs.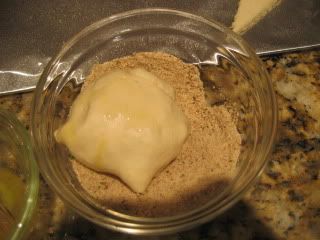 Dang these pictures are dark.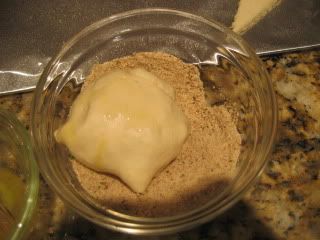 Bake on ungreased cookie sheet for 25-30 minutes. These suckers are good. I was pleasantly surprised. I was a bit worried they'd be bland but they weren't. I served them with some steamed veggies from that nice Giant guy.