Well over a month ago I signed up for a chance to get some swag from
Aunt Becky
. She went to the woman blogging conference know as BlogHer. I didn't even know this sucker existed until one of my favorite blogs,
Cake Wrecks
, talked about it. That's how I learned of dear Aunt Becky. I love her. She is funny. She has 3 kids, 2 about the same age is mine. She cusses like I used to. She's a good writer, like I want to be. Anyway, she's awesome and she wanted to do a contest to give away some of the free stuff she picked up at BlogHer. I wanted that free stuff. So she sent me 2 of the business cards she never got a chance to give away at the conference.
I took them out of the envelope immediately. Then they sat there. On the table, on the bar, on the island, on my computer desk, on my bedside table.....Yea, I had such grand plans. Such pitiful, not gonna happen plans.
I got a few pictures here and there.
Here the cards are languishing amongst my piles of junk: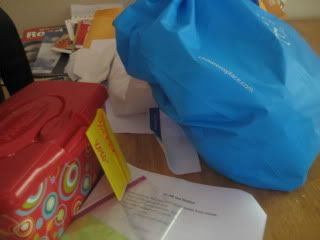 Brock had a quick touch before I was worried the ink would do something to him when he, inevitably, put the things in his mouth.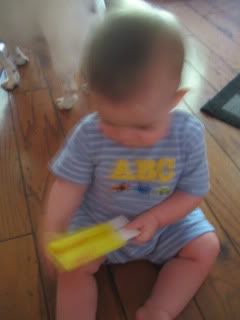 Upon reading a very poignant post by Aunt Becky I realized that today was deadline day for the swag. DANGIT! I had nothing! The posts that I've checked out so far are super cool and witty. What's the point? The point is I said I'd do it and, dadgummit, I'm gonna do it!(Why can't I take this attitude with working out or eating right? Maybe this is the first step.)
So we headed to the park. I nervously watched Riley go up and down the stairs of the gym, chasing 2 bigger, older boys.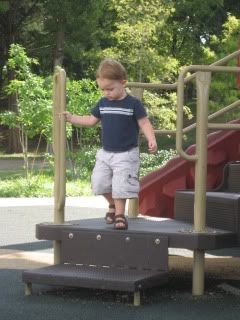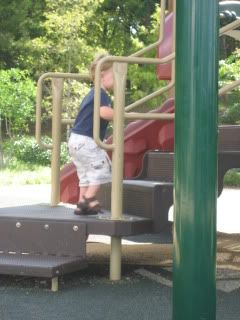 I like to think that Aunt Becky was a bit nervous as well.
Brock wanted in on the action. He shows off his standing skills: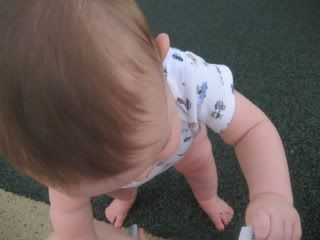 I got one last picture before they were consumed.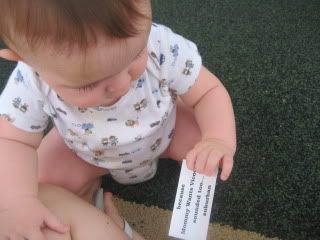 So far there are no adverse reactions to the ink.