This is a special treat we have every once in a while. It's also good with chicken!
1 lb fresh crab meat
2tbsp Old Bay seasoning
1/4tsp dry mustard
2tbsp mayo
1tbsp worcesterchire sauce
1/2tsp salt
1tbsp chopped fresh parsley
1 chopped roasted red bell pepper
1 egg, beaten
1/2C + dried bread crumbs
Butter for frying
Put everything(except butter) in a bowl.
Mix it up.
Add more bread crumbs to make it the right consistency.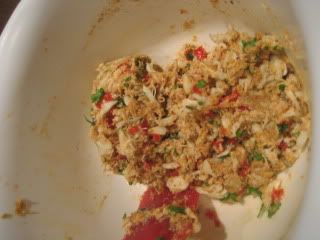 Melt some butter in a pan.(can you tell I took a lot of pictures of this one?)
While that's melting, form the crab mixture into cakes.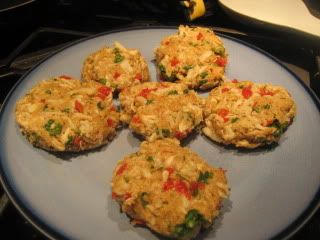 Put them in the pan and cook, at medium high, for about 7 minutes. Check to make sure the bottom is nicely browned before flipping over.
Fry for another 5 minutes or so. Check them again for brownness. Serve 'em up!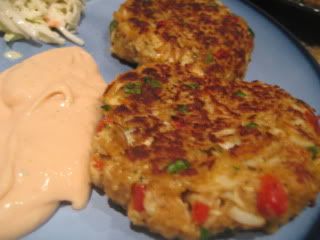 I made a remoulade sauce and some cole slaw.
The remoulade consists of:
mayo
ketchup
worcestershire sauce
horseradish
lemon juice
salt and pepper
I make no measurements. It's all by taste.