Grandma and BeBe need a fix. Here are a bunch of pictures from this month.
Check out that goose egg. He can thank his big brother for that. Riley loves slamming his head into the wood flooring. Brock isn't a fan but Riley thinks he'll get used to it and start to enjoy it.
The Guy has given me permission to put up pictures of him as long as they're "good" pictures.
Riley would NOT smile. This is becoming a thing with him. Sign of things to come?
Me and my boys.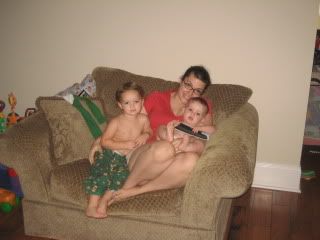 Riley gets to run around shirtless after bath because he usually eats some more and then brushes his teeth right before bed. This way he goes to sleep with a clean, dry shirt. It took me a while to figure this out. All that explanation just in case you were wondering about him in just pj pants. I do fully dress him for bed.
A little blurry, but Brock loves hanging out on the couch with Dada.
This outfit is for an 18 month old. Brock is 11 months. I cannot button the last buttons on either side because my boy has thunder thighs. I sure hope he grows into them someday.
I have more cuteness that I'm uploading now. I'll be back soon for more!