All foods are NA to Riley. Even when he knows the name for it. Like cheese. Once he starts eating it, it becomes NA. Jars of baby food are Baby NA. Anything I'm eating = Mama NA. Unless it's cookies. Then it's Baby or Mama and WhyEE cookies. He is definitely my child.
He got leftover spaghetti tonight for dinner. With lots of cheese on top. He kept asking for more when he couldn't see the white specks of fake parmesan anymore. He kept telling Brock, the dogs, and me that it was nummy NA. Cuteness. Messy cuteness.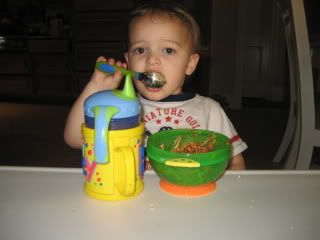 Look at those eyelashes!