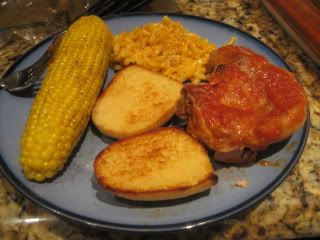 I tried a new baked pork chop recipe. The man that lives here asked for pork chops this week and I wanted to find something super easy. Something I could make really quick and then forget about for a while.
Here's the recipe:
Ingredients--
1 teaspoon prepared mustard(I used spicy brown)
1 tablespoon flour
1 tablespoon brown sugar
1 teaspoon salt
1 tablespoon vinegar
1 tablespoon worcestershire sauce
1 cup ketchup
1 cup water
Bone in pork chops-thick
Mix together mustard, flour, sugar, and salt. Add in vinegar, sauce, ketchup, and water and mix thoroughly.
Put chops in large baking dish and cover with sauce.
Cover tightly with foil and bake at 350 for 1 1/2 to 2 hours.
Since my pork chops weren't all that thick, 1 1/2 hours was plenty.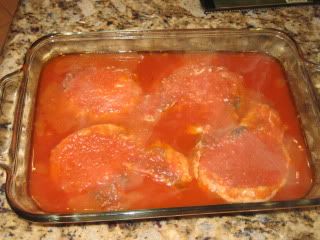 They're nice and tender and have a great taste to them. We were supposed to have peas along with the corn and sourdough baguette but, um, they were nasty so we didn't. That's the last time I'll be getting one of the microwave bags of veggies from Kroger. I did mac 'n cheese instead.