Cast of ingredients:
That's a stick of butter, 3/4-1 C of brown sugar(I use a full cup b/c I like my bread sweet), 2 eggs, 2+C mashed bananas, 2C all purpose flour, 1tsp baking soda, 1/2 tsp salt.
Cream the butter and sugar together.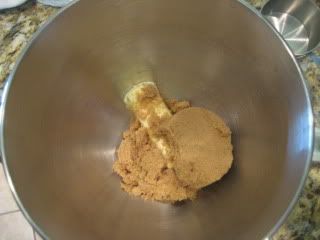 Add eggs. Stir. Add bananas.
These look pretty dang nasty all mashed up. I like my bits of banana chunky so that might have something to do with their icky appearance.
Stir. This is where you'd add a bit of vanilla if you like that sort of thing. I normally do.
Combine flour, baking soda, and salt. I will leave this picture out since it's white stuff in a white bowl and is displeasing to thine eyes.
Instead I'll show you a picture of Chunk, who kept me company. Just hangin' around.
Add flour mixture to banana mixture and stir until just combined.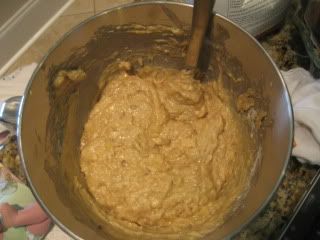 If you like it nutty, by all means, throw some in. Pour batter into a greased loaf pan. I normally do mini loaves but I killed my pan and threw it out just this morning.
Place in a 350 degree oven for about 60 minutes. Then do the toothpick test. Let rest 10-15 minutes and put on a wire rack for another 20-30 minutes.
Sooooo yummy.
I might have it for dinner.