Another from the Cooking Light cookbook. Another keeper, for sure.
This is a picture of the leftovers.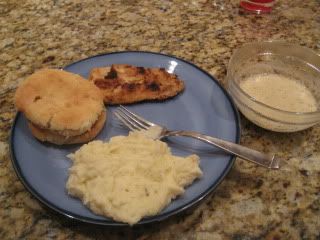 Go ahead and preheat the oven. You'll be preheating your pan right before you're ready to go.
Combine:
1/4C low-fat buttermilk
4 tsp
dijon
mustard
1 tbsp honey
1/4 tsp salt
1/4tsp black pepper
1/8 tsp dried rosemary
I tripled this(I only had a 3/4measuring cup that was clean,
don't
judge). I will quadruple next time because the sauce is so good.
Spoon 3 tbsp(I obviously used a lot more) into a shallow bowl. Reserve the rest.
Combine:
1/4C breadcrumbs
1 1/2 tbsp grated
parmesan
Guess what I did? I doubled this. I like extra stuff. Probably defeats the Cooking Light purpose. I try. Really, I do.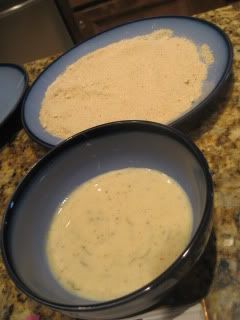 I used thin sliced chicken breasts. They cook quickly. This would be good with any kind of chicken. But my cooking times are for the thin sliced chicken breasts.
Dip the chicken in the buttermilk mixture(the small amount) then dredge into the breadcrumb mixture. Chill for 15 minutes.
Lightly coat a baking sheet with cooking spray. Place in the oven for 5 minutes.
Place the chicken on the baking sheet. Bake at 425 for 10 minutes. Flip and cook for another 10 minutes.
Microwave the reserved buttermilk mixture on high for 20 seconds. You can drizzle it over the chicken or do like we did, dip it!
I served this with broccoli and cheese and mashed potatoes. If you haven't already, make your mashed potatoes with sour cream instead of milk. I did that one day and I have never gone back!