I got this out of a Southern Living chocolate recipe book. I had to give it a try. I'm not a huge lover of cheesecake but The Guy is. But I do love
oreos
so this seemed like a good idea.
Go ahead and get a bag of regular
oreos
. You'll use pretty much all of them. Dump 2 1/2 rows in a very large bag and take out your aggression against THE MAN with something heavy. I used a play hammer trying to let the kids participate. When that didn't go as planned I busted out the rolling pin and went to town. It was very
cathartic
.
On to the rest of the ingredients:
Crust
2C of crushed
oreos
2tbsp butter, melted
1/4C packed brown sugar
Filling
4 (8oz) packages cream cheese, softened
1 1/4C sugar
1/3C whipping cream
2 tbsp all-purpose flour
1 tsp vanilla extract
4 large eggs
2C
oreo
crumbs
Topping

1 (16oz) container sour cream
1/4C sugar
1 tsp vanilla extract
Ganache
1/3C whipping cream
1 1/4C semisweet chocolate morsels
1 tsp vanilla extract
Combine first 3 ingredients in a medium bowl; firmly press mixture into bottom and up sides of a 10 inch
springform
pan. Bake at 325 for 12 minutes. Set aside.
Beat cream cheese at medium speed with an electric mixer until creamy. Gradually add sugar, beating well. Do not eat this with a spoon. You're going to need it. Add whipping cream, flour, and vanilla, beating well. Add eggs, one at a time, beating after each addition.
Pour 3 1/2 cups of the batter into prepared crust. Top with the 2 cups of cookies. Pour in remaining batter. Bake at 325 for 1 hour and 15 minutes.
Combine topping list and spread over cheesecake. Bake at 325 for 7 minutes. Turn oven off and leave cheesecake in the oven with door closed for 45 minutes. Remove from the oven and cool completely on a wire rack. Cover and chill for 8 hours(or overnight).
Take out of fridge and remove sides of pan. YUM!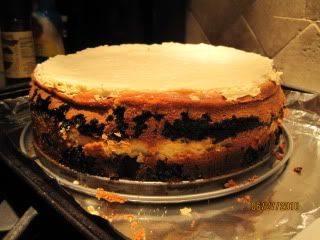 Combine cream and morsels in a saucepan; Stir over low heat until chocolate melts. Stir in vanilla. Remove from heat. Carefully spread mixture over cheesecake, allowing it to drip down the sides.
Ohhhhh
yeaaahhhhhhh
You can garnish with more
oreos
but I didn't even try that. The
ganache
on top made this for me. I'm not sure why, probably because
ganache
is a gift from heaven and I love love love it.
Let me know if you try this!