I'm starting to get a bit more adventurous with the foods I'll hand over to Brock. He's almost one, I figure he should branch out from puffs, cheerios, and toast. I let him try a carrot on vacation.
Hmmmm
WHAT IS THIS CRAP, MAMA? Take it away.
And, then, I have no idea what is going on in this picture but it makes me laugh uncontrollably as well as cringe because it looks a little creepy. What do you think?
There's just something about his face in this one.....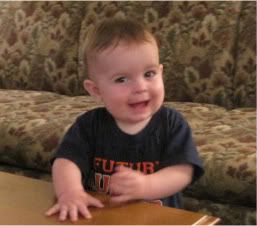 Doesn't it creep you out just a little?