The night before.
I'm such a bad mom. We were supposed to roll out and make sugar cookies but I'd been in such a baking frenzy that I just couldn't do it. So we let Santa have a bite of the gingerbread house.
Now for opening presents!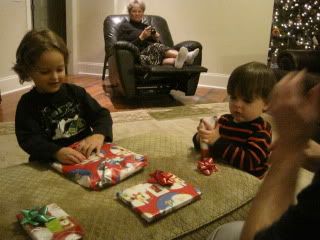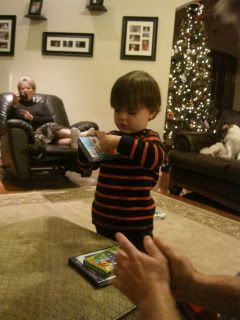 Watching
Brock and Riley helped pass out all the presents.
So much excitement!
Bronco stayed out of it as the playing commenced. He loves getting on a pillow!
Granddaddy and granddog reunited.
We got the kids a cardboard castle(last year) and they've enjoyed it.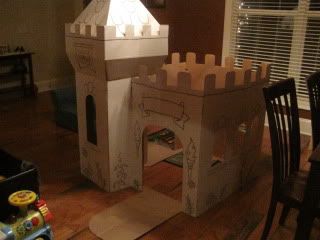 I made a big oven pancake for breakfast. Brock enjoys his with powdered sugar. He pretty much needs a shower after he's eaten.
Oh, and the monkey and alligator. It seems that Granddaddy found these in a catalog and thought the kids should have them. They have sensors so that if you touch it or pass by it, it's activated. What happens when it's activated you want to know? It rolls and laughs. Like an insane man laugh. For the first 50 times it's pretty funny. After that, not as much! But the kids have yet to tire of them.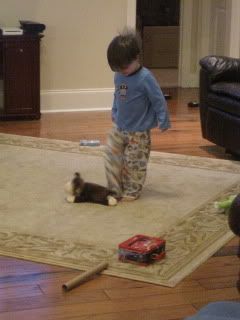 Brock kept activating them if he heard them stop. It was highly entertaining that first 2 hours!