Grandma and I helped the boys make a gingerbread house for Christmas. I really love the kids you can get. They aren't all that tasty but they are so very easy!
Since there was so much helping going on I didn't get to take very many pictures of the process. So here's the finished product.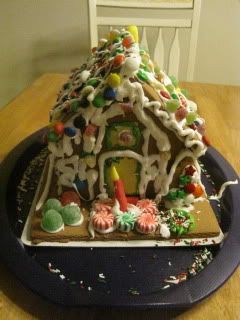 And here's a peak at the treat plate I passed around.
From the left--red velvet cake balls, ginger crinkles, mint chocolate chip meringues, and mud puppy mix. And I'll go ahead and admit I ate way too much of this stuff myself!