We're over halfway through our day at this point. The kids haven't napped and we're all starting to get a bit cranky from the heat. But we had a special treat waiting for us that we'd fast passed earlier.
Mickey and Minnie meet and greet!
Riley was in awe. It was adorable.
Brock, not quite so much.
Mickey was very sweet but Brock just wasn't feeling it. Riley really loved it though.
We passed the castle again and they had a show going with Goofy and Donald.
But there was not a lick of shade available around the castle so we decided to skip it.
More line waiting for the Pirates of the Caribbean ride. It was in a cave like thing and wasn't too hot so we liked this line!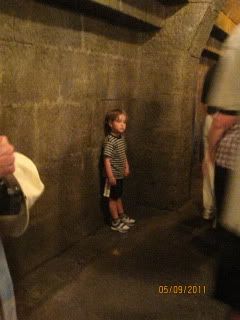 Grandma and Grandpa were such troupers. They took the kids into the Swiss Family Robinson tree house while The Guy and I just sat on our butts.
Then we found another sit down ride into the jungle on a boat. Our guide was hilarious so we were kept well entertained.
Massive butterflies grow in this jungle.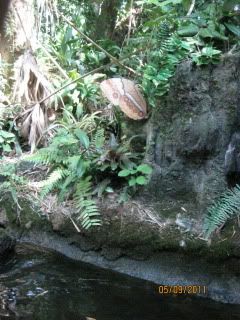 There was a family of lions and a group of elephants--though not right together!
Finally, one kid(Brock) passes out just as we hit the truly kid section of Magic Kingdom. This is the one with Dumbo and the teacups and inside stuff for Peter Pan and other toddler favorites. The waits were HOURS long so we just hit the teacups and got ready to go.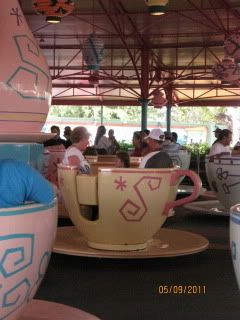 Brock wasn't too interested in riding. He was completely worn out.
But Riley had a great time with Grandma and Daddy!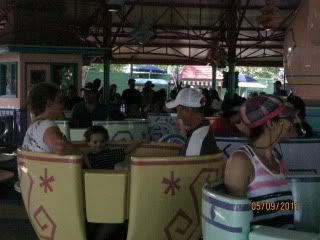 One last ride was a rocket ship way up high in Tomorrow Land. I thought this could be the one ride I could stand. It didn't look to crazy. Right?
Yea, this thing went way up high and very fast and had some crazy velocity as we were swung around in a tight circle. It is a miracle I didn't throw up. I really really wanted to. But the fact that I was crushing Josh's leg kept me from adding insult to injury but puking on him.
It was a fun but exhausting day. Next time we go we'll have a much better strategy than wandering aimlessly!