It's been a long time coming--since it's been over a month since we went to Disney World in Orlando, but I'm finally ready to start blogging our trip!
We left Saturday afternoon and the trip was going pretty well. Kids were watching movies and snacking. Josh and I were doing fine. But we noticed on one of our stops that Brock was really hot so I got out the thermometer. Yea, 102. We decided we'd better stop for the night in Tallahassee, FL. We must have gone to 6 different hotels looking for the best deal. We finally decided to just stay at the last one we visited because Brock was getting very cranky. We checked in and got him in a cold bath and then kept wiping him down with a cold cloth as he whimpered. The kids slept fitfully and Josh and I didn't sleep at all. But we made it.
We set off Sunday morning-Mother's Day-and made it down in record time. As soon as the boys saw Grandma and Grandpa they went running! It was precious.
Riley went swimming with his grandparents and Brock went to Target with Josh and me since he was still feverish.
We made plans to visit Magic Kingdom the next day. We found that Monday is NOT the best day to go to MK but, live and learn!
Here we go!
Tram from the massive parking lot, which they have down to a science for the parking and filling and filing. Truly amazing.
Gotta slather on the sun screen.
The line to get on the train was LONG. If you look closely, you'll see Riley's head through the cover on the stroller.
More waiting...
We made it!
We're in!
There was a street show going on. Super cute but it was so crowded on main street we were just trying to get through.
We had been telling the boys for months that they were going to get to see the castle in person soon. They see it so often on their movies. And we finally made it! Now anytime we watch a Disney movie Riley tells us that he saw that castle at Disney.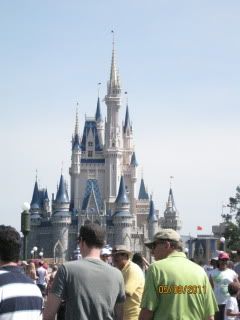 Time for Adventureland.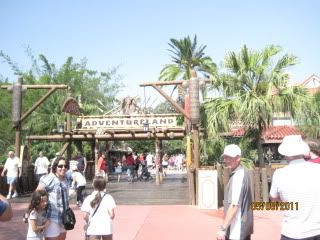 Daddy and Grandpa took the boys on their first ride. It was an Aladdin ride on his magic carpet.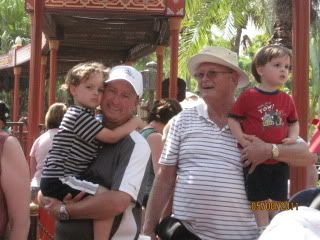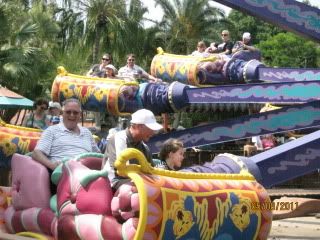 I spotted Aladdin and Jasmine before they took their break.
It was very very hot. I cannot imagine going in true summer! Next trip will be in the Fall I think. We took a break from the heat to watch the bear show. It has a name but I can't remember! It was cute. Plenty for the kids to enjoy and lots of slyness for the adults to giggle at.
More to come on Magic Kingdom!