We had spring break in early March and I needed to find some things to entertain the children. I found that thing on day one!
I got an easel for the boys for Christmas and we've used it all for 4 times. I got a roll of butcher paper to go along with it and that has come in super handy!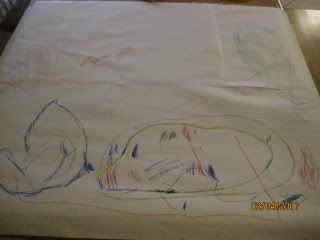 I covered half our kitchen table with the paper and let the boys go to town on it. They both really enjoyed having such a large area to color it.
Oh, and that shirt in the last picture says, "I'm happy. Don't ruin it." It came from Grandpa and is Riley's absolute favorite shirt. It's starting to get a little tight and I know he will freak out when he outgrows it!