I think this is the closest Bronco and Trouble have laid down together.
Since Denver has been gone, it's actually been Trouble who seeks out Bronco. Bronco is still terrified but he is getting more comfortable with Trouble...as long as a human is right beside Trouble. Maybe he thinks we'll keep Trouble from hurting him? If only he knew we encourage it!
Brock loves to wear his daddy's hat.
Riley is becoming such a big boy! He makes his bed everyday and feeds Bronco for us. Next up is laundry helper!
He can pull the clothes out of the washer into a basket.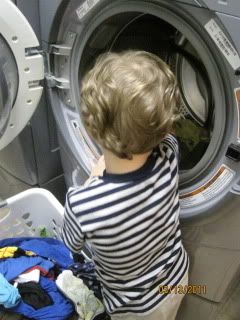 And then we shove that basket over and he can load the dryer. SCORE!
I can't wait 'til we can really put them to work. Yard work, bathroom scrubbing, dishwasher unloading. Big perk of having kids = slave labor!