FINALLY
I have been butchering my poor children's hair since they had enough hair to cut. I just refused to pay $10 a pop for a little boy haircut! The Guy put his foot down recently and said it just wasn't fair to our poor kids for me to make them look funny. I relented because the last few times have been really awful.
Before pictures:
Poor child has about 8 cowlicks.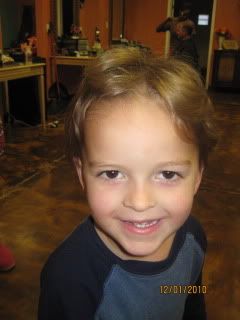 You can still see a bit of the uneven mess I made last time.
During:
Bribery!! Thank goodness for suckers.
We had a few unhappy moments but, for the most part, it went really well.
After:
Chillaxin' at home.