Dinner one night this week.
You'll need:
1 pound Ground Beef
2 cloves Garlic, Minced
1 can
Refried
Beans (16 Oz)
1 teaspoon Salt
½ teaspoons Ground Cumin
⅓ cups Taco Sauce
1 cup Pitted Ripe Olives
12 whole Corn or Flour Tortillas
20 ounces, weight Enchilada Sauce
3 cups Shredded Cheese
Start by frying up your ground beef and garlic until beef is browned.
Now add in the beans, cumin, taco sauce, and olives.
Mix it all up into a disgusting mass.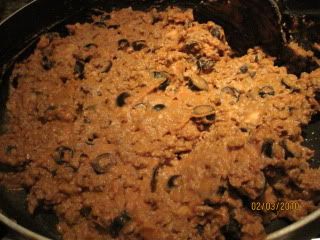 Now take your tortillas and plop the meat mix in the middle.
Top with some cheese.
Fold them up and put seam side down into a baking dish and top with some enchilada sauce.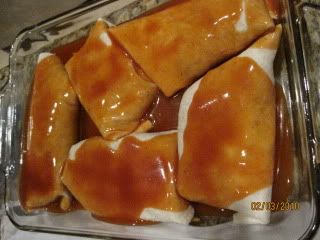 Bake at 350 for 20 minutes. Top with more cheese and put back in the oven for another 5 minutes.
This is my favorite enchilada recipe
EVAH
.