My mother-in-law has shared a super awesome recipe with me. She calls them orange glory rolls and they're almost a monkey bread except orange-y. YUM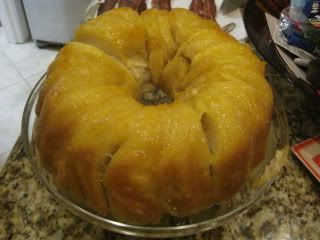 Take 2 cans of biscuits--NOT Grands--10 biscuits in each can--and put them in a greased bundt pan. This picture is with Grands. I learned the hard way that these suckers never get all the way done b/c they're just too big!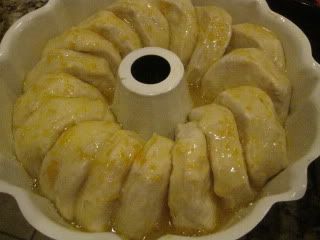 Melt together: 1 stick of butter 1 cup of sugar 2 tbsp. grated orange rind 2 tbsp. orange juice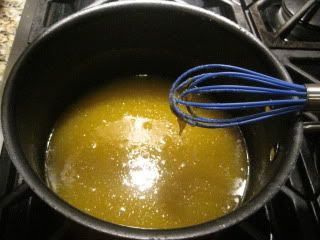 Heat through until sugar is totally dissolved. Pour this over the biscuits and giggle the pan a bit.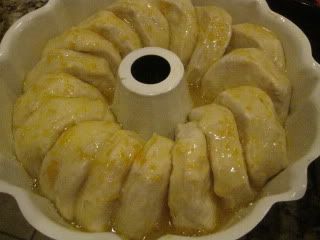 Bake at 375 for 20-25 minutes or until the biscuits are firm and the tops are starting to brown. Find a big place to put on top of your pain. Do a careful flip while the pan is still HOT. Once these things dry it's like trying to chisel them out of cement. You might have to do some banging or jimmying to get them to drop on your plate. Be prepared for a mess unless your plate is a good bit bigger than your pan.
That all probably sounds a bit involved there at the end but it's WORTH IT. As soon as I make it again I'll get you a picture of a slice.