After the Thanksgiving festivities were over we got down to the business for decorating for Christmas.
Got to get the outside all purty!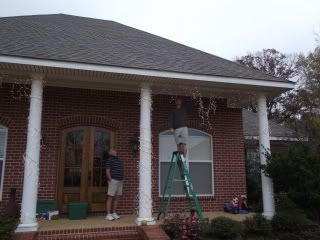 And thanks to bad planning(laziness) on my part, there is no after picture of the front yard. My bad!
Next comes all flat surfaces inside.
Big thanks to Grandma and Be Be for pawning off their old decorations so I could have new stuff!
Because he's cute. And it shows the mantle lit up.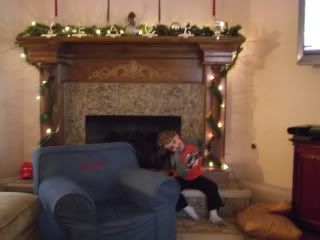 And now for the tree!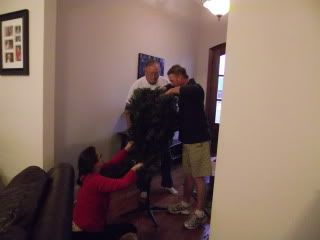 I really miss having a cedar tree. It meant Christmas for my entire life until after I got married. The first year we had a tree, it wasn't cedar and it was infested with bugs. The next year it wasn't a cedar but at least there were no bugs. The next year we had a crawling baby and were heading to my parent's house so we didn't even get one. The year after that I had a new born and we didn't even get a tree!
After that sad year we went out and got an artificial. It's tall and wonderful and we love it. Someday we'll have a second tree that's real and I will, somehow, convince my husband that it has to be a cedar tree. I miss that smell. Back to our regular scheduled topic.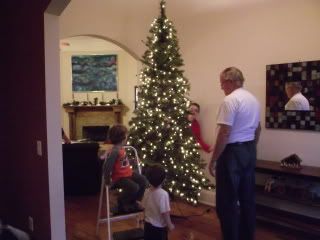 "Helping"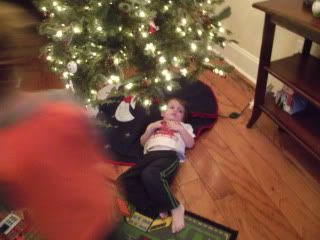 Riley did much better with the helping part!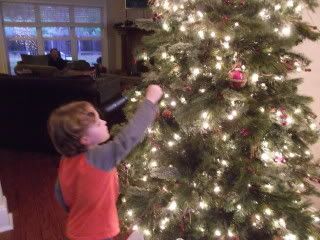 Pretty.
We did it!
Before:
After!
And because I love it and it makes me giggle: Grandma and Bronco cuddles.