The boys and I headed to Walmart to find their costumes. I had 5 costumes picked out for Riley to choose from. He picked: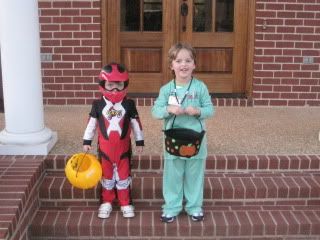 A doctor!!!! I know it's a bit early to get excited about such things, but when your 4 year old would rather be a doctor than a ninja, spiderman, or batman, you tend to get a little giddy.
Poor Brock had to be a hand me down motorcycle rider. He was desperate to be spiderman but the only things left even near his size were a mario brothers and a pirate princess.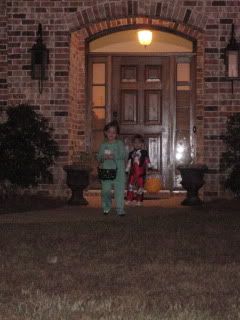 We had a quick visit from our neighbor dog, Bella.
At the neighbor's house--first stop!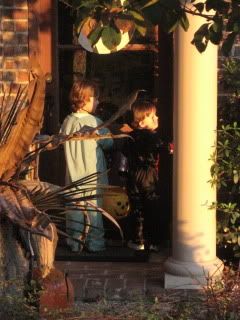 There was no way I was lugging these big boys around in the wagon this year, so we took the 4 wheeler. Brock wanted to walk so Riley got it all to himself!
We had a great time. There was much candy and much running and rejoicing at the candy. And, thankfully, they said Thank You to everyone!