Super yummy dinner.
First, preheat your oven to 375 degrees.
3-4 pound boneless pork loin, trimmed of fat
1/4C frozen apple juice concentrate, thawed
1 tbsp brown sugar, packed
3 large sweet potatoes, quartered
Coat a large ovenproof Dutch oven with vegetable oil and place over medium-high heat. When very hot, add the pork roast.
Cook, turning, until all sides are browned, about 6 minutes. Remove from the heat.
In a medium bowl, combine the honey, orange juice, apple juice concentrate, pepper, and brown sugar. Spoon over the pork roast. Place the sweet potatoes around the pork.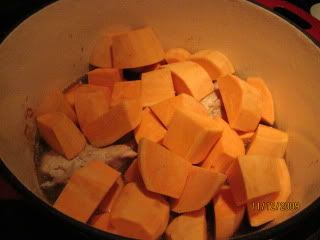 Cover and bake for 2 hours. Pork should register about 150 ° on an instant read thermometer.
Let the pork stand for 10 minutes before slicing.
I usually just serve this with some rolls. Nothing else is really needed.