It didn't take too long before we were joined by my brother, Dan, my nephew, Alex, and my sister-in-law, Nakissa. They had flown in from Dallas to Pensacola and then were stranded in Pensacola because of flooding. But they finally found a route out and made it.
They boys pretty much idolize Alex. They think he is the coolest ever. Which they should!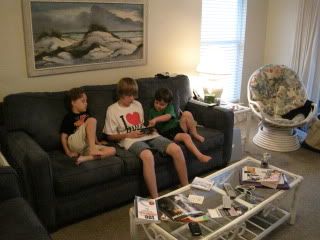 Every morning the adults would go out and look for dolphins and drink coffee. Granddaddy had a sidekick one morning.
The children begged and begged to head down to the water as soon as they woke up each morning. Daddy only joined us in the water once but he made it memorable, staying out with the boys for hours.
The boys were naturals in the water. They had tons of fun!
Aunt Nakissa and Brock building castles.
A shot of Uncle Dan riding the waves.
BeBe and Aunt Nakissa taking a breather from playing.
More coming!