These are some older pictures but since I don't have any new ones to share, they'll have to do!
For the second time Riley has gotten bitten by something that has not agreed with his system. We've had to go to the
pediatrician
both time because he's swollen so badly along with having red and hot skin around the bite. Major antibiotics along with ointment each time.
Can you tell which leg is effected?
How about now?
Yea. Ouch. He didn't seem the list bit bothered, though. He was just enjoying the attention and movies. And sitting in daddy's chair.
Around that same time, Brock got really sick. High fever and lots of
crankies
. Though, awesome mom that I am, I have no memory about what was actually wrong with him. He became very fond of his little Elmo doll during this time.
Mine.
He was so hot with fever I just put some of Riley's undies on over his diaper since he's quite likely to take his diaper off. Stinker.
Cuteness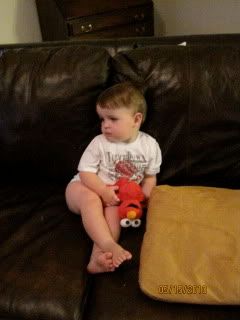 Where's my Elmo?