We finally made the trek through scary ghetto ville to visit our local Zoo. I'm sure the area was just fine when they built the zoo, but it is not a place I like to drive through now. No wonder the zoo closes at 4.
We went with our favorite locals: Cindy and Thomas. Thomas has trains. I think Riley has managed to make it home with at no less than 6 trains from Thomas's house. Thank goodness Mama Cindy doesn't mind. If we drive anywhere near their house, all I hear is, "See Thomas Cindy?" Cute but a little annoying the 34th time.
We saw a giraffe.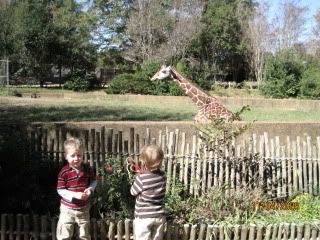 There was a Mama giraffe and a Baby giraffe....so said Thomas.
Brock was just along for the ride and the snack cup.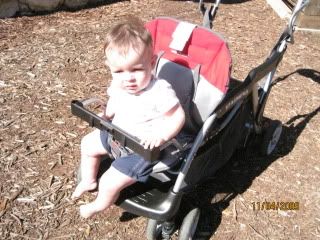 They had this little playground area with huge eggs and a big tree you could stand in and a massive alligator you could pose on. Riley was elusive. I only got one picture.
Turtles!
This slide was an elephant trunk. Sooo neat.
We then took a train ride through the woods and around a lake. It was a huge hit with both boys.
It was really fun and Riley had a blast. We'll definitely be going back!