Making little pizzas with Mommy(which they wouldn't flipping eat!).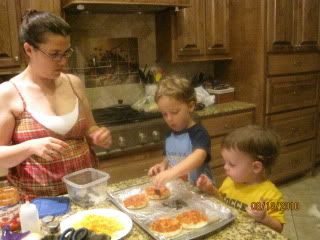 We searched and searched for a new bed for Brock. 2 trips to Meridian. Multiple trips to all the local furniture stores. I was going crazy! I will keep you suspense a little longer on the bed we actually got but here's a shot from a cool bed at Woodstock Furniture in Meridian.
Peek a Boo!
There were a lot of geese at our lake all summer. They took a trip up our cul-de-sac one day and we got a few pictures of it. The boys wanted to go out and play but I was little scared the geese would be mean. Our neighbor ran them off before the deposited too much poop in our yards.